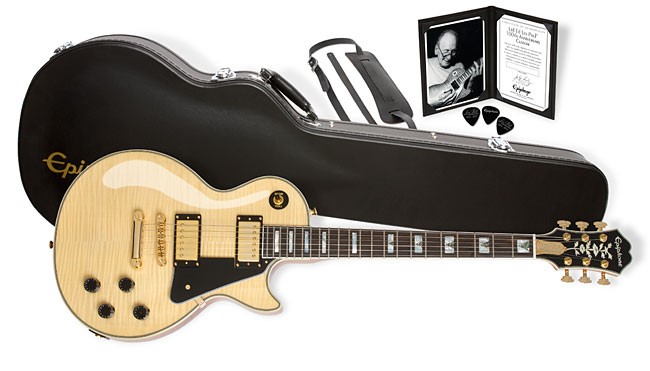 In the end of 2015 Epiphone prepared a nice gift to fans offering a chance to win limited edition of Les Paul Custom 100th Anniversary Outfit. Offered guitar features a classic Mahogany body with Les Paul profile in both a Cherry finish with a Mahogany veneer and a Natural finish with a AAA Flame Maple Veneer. It includes a 24K Gold plated metal truss rod cover engraved with "Les Paul 100th Anniversary" and powerful ProBucker™ Humbuckers with coil-splitting.
Eavery Les Paul Custom 100th Anniversary comes with a hard case with a 100th Anniversary Commemorative Logo, a vintage-style strap, 3 Commemorative Picks, and a Certificate of Authenticity in a presentation binder.
The contest is open to U.S., Canada, and the EU/UK (combined) citizens. From each of 3 mentioned regions a winner will be chosen January 4, 2016.
To win this spectacular giveaway simply enter the form on Epiphone website at
http://www.epiphone.com/News/Features/2015/Enter-to-Win-a-Les-Paul-Custom....
Source:
http://www.epiphone.com