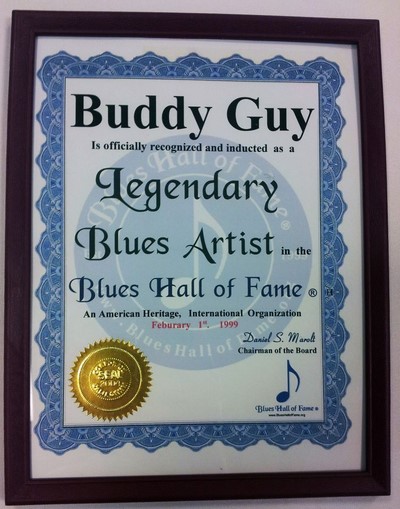 Yesterday on April 28, 2013 Buddy Guy was inducted into the Blues Hall Of Fame yesterday.
This is another honor payed to this legendary American guitarist and singer.
Buddy has won six Grammy Awards both for his work on his guitars, and for contemporary and traditional forms of blues music. In 2003 he was awarded the National Medal of Art. He had earned 23 W.C. Handy Awards (more than any other artist has received).
In 2005 Guy was inducted into the Rock and Roll Hall of Fame on March 14, 2005 by Eric Clapton and B.B. King. In 2008, hey was inducted into The Louisiana Music Hall of Fame.
Finally on December 2, 2012, Guy was awarded the 2012 Kennedy Center Honors.
Living Proof Collection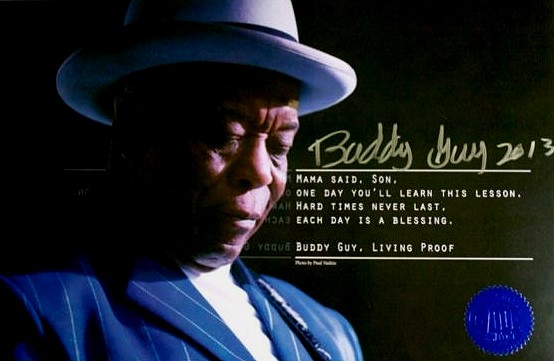 Through Buddy Guy website you can purchase special
"Buddy Guy Living Proof Collection!"
It includes:
- a signed copy of the Grammy winning album Living Proof
- a signed first edition hardcover book
- a signed, framed "Hard Times Never Last" poster
All for only $145 with free shipping to anywhere in the US.
Collection available to buy
here.
You can also buy these items individually:
The CD:
http://r.ebay.com/POqBMH
The book:
http://r.ebay.com/vc6SYc
The framed poster:
http://r.ebay.com/bxdyXH
The unframed poster ($25):
http://r.ebay.com/QCF6x9